Hello – I'm writing this on a train up to Yorkshire, after a few weeks in South Africa.  Lots to update you on, but in brief, I have a busy week of events coming up, starting with tonight's launch of the 2018 SI Leeds Literary Prize at the Ilkley Literature Festival. It will be great to return to Ilkley — last time I was here, as one of the 2016 prize winners, I was deep in the edit of Dark Chapter and one year on, it's amazing to present it as a tangible book! 
Tomorrow, I'm back in London for a panel with the other short-listed writers in The Guardian's Not The Booker Prize, chaired by Sam Jordison, the prize founder and a Guardian book critic.  The panel takes place 7-9pm at the Big Green Bookshop.  Looking forward to meeting the other shortlisted writers, as well as Sam, who called Dark Chapter 'an impressive debut… defiant and urgent… conveyed with skill and emotional force' in this great review.  In fact, we're in the final stage of the Not The Booker Prize — so if you liked the book, please consider voting for it  before midnight, GMT, Sunday, Oct 15th.  All you have to do is vote in the comments section of this article, providing a brief review of the book.  Many thanks to all who have supported the book thus far in getting to the shortlist!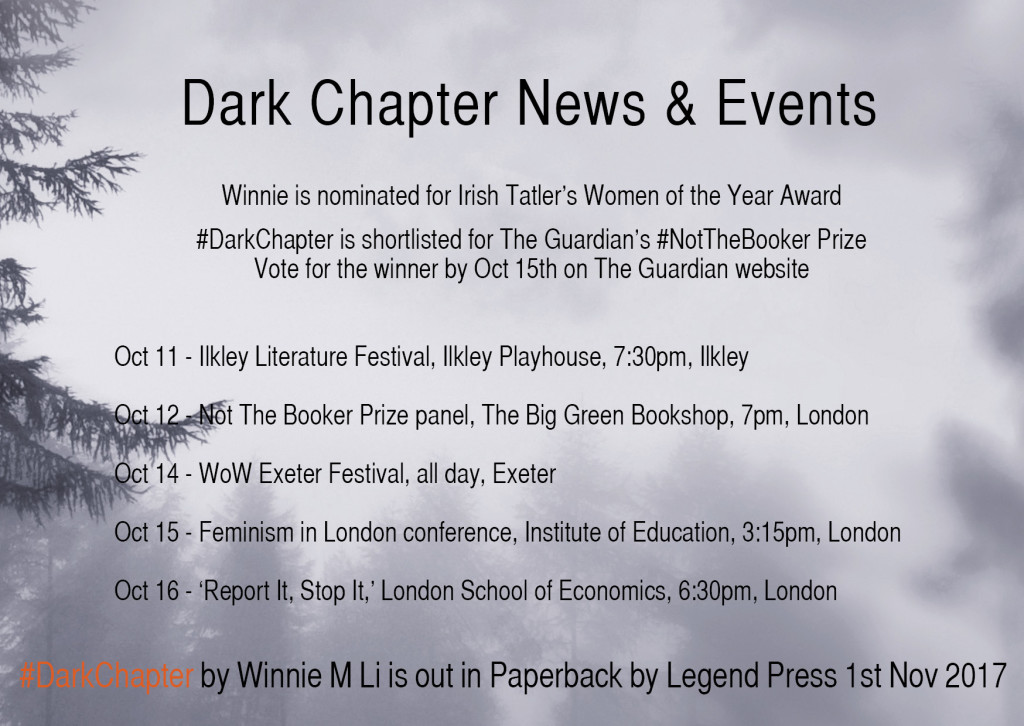 You'll see my October events list above, which also includes speaking on panels about feminism, change, and online spaces at WoW Exeter; about recovery after rape at FiLiA (formerly the Feminism in London conference); and about sexual harassment in institutions at the London School of Economics. On Monday, Oct 16 from 5-6pm, I'll also be part of a BBC World Service radio programme for BBC 100 Women, broadcast live from the London Transport Museum about sexual harassment on public transport. 
I'm also headed to Dublin in late October, where I'll be at the awards ceremony for Irish Tatler's Women of the Year Awards.  I'm nominated in the Special Recognition category, and it has been an honour to be part of a larger, much-needed conversation in Ireland about sexual assault.  In September, TV3 Ireland aired 'Unbreakable: True Lives,' a two-part television documentary featuring four Irish stories of sexual assault and rape. I was one of those four survivors, and the documentary follows my return to Belfast to revisit the park where I was violently raped by a stranger in 2008. When we filmed last autumn, the thought of returning to that park (which features heavily in my novel) filled me with great deal of trepidation and anxiety. But the actual return was not as awful as I expected — and the huge public reception generated by the documentary this autumn has made everything worth it.  The social media reaction has been incredible, connecting a great number of survivors, and we even elicited a statement from George Hook, the Irish journalist who recently came under fire for his questionable comments about rape victims. For those in Ireland, you can still watch the show on TV3 player until Oct 26. My story is in Part 2, which aired on Sep 28th.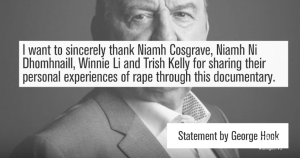 While the documentary was airing in Ireland, I was actually in South Africa, where I'd been invited to speak at the Articulate Africa Book Fair, part of the Essence Festival Durban.  It was my first time in Durban, and I've always been keen to connect with readers in South Africa, which the media rather salaciously calls 'the rape capital of the world.'  Needless to say, a great number of survivors and activists are eager to change the situation around sexual violence in South Africa —I hope my talk resonated with many. It was also great to meet with eminent writers like Chris Abani and Christopher Merrill from the US, and South African authors like bestselling crime writer Deon Meyer, debut phenomenon Mohale Mashigo, literary critic Karina Szczurek, and the renowned Etienne van Heerden (whose novel Ancestral Voices, I'd first heard about as a 14-year-old in New Jersey).
After the book fair, I took the opportunity to travel around South Africa for a week. I got to traverse the Sani Pass and stay at the highest pub in Africa (in Lesotho), explore the Drakensberg Mountains, hike in the Golden Gate Highlands, sample the art and dining scene in Clarens, and meet three of the Big 5 game animals on safari in Hluhluwe-Imfolozi Park. Nothing quite like turning a corner and finding an elephant right there next to the road!  I hope to return to South Africa soon (especially if my book finds a distributor there), and it's great to see readers of Dark Chapter already enjoying it down there.

Finally, my novel came out in the US and Holland in September, with Polis Books and Harper Collins respectively. I wrote this piece for LitHub, on how my background in film influences me as a writer (with a special nod to the car chase scene from The Bourne Supremacy).  Already, Dark Chapter has been included among the top 2017 debut novels by Library Journal and top autumn thrillers by Book Riot. In the UK, Dark Chapter continues to generate buzz, both in the media, with those working on the issue of sexual violence, with book bloggers, such as Books Beyond Borders, Book Muse, and From First Page to Last.
The paperback will be out on November 1st, and already I have an exciting line-up of events in London and elsewhere around the UK.  Looking forward to meeting more readers and seeing how far the book can go in reaching both individuals and organisations on the issue of sexual violence.  If you read the book and think it's a worthy read, spread the word!  And don't forget to vote for Not The Booker!