I'm very honored to have been shortlisted for the prestigious Asian Women of Achievement Awards in the Social and Humanitarian category, for my work on the issue of sexual assault and consent, including launching the Clear Lines Festival.  The awards are meant 'to celebrate the often unsung Asian heroines of British life' so… hey, I appreciate that!  Awards evening is May 12 at the London Hilton on Park Lane.  Looking forward to it!
Speaking of Clear Lines, we've recently sent out our Spring 2016 newsletter, which you can read here.  And on March 12, I had the opportunity to run an important discussion group on sexual assault and abuse at the Women of the World Festival (WOW) at the South Bank Centre, on behalf of Clear Lines.  This followed the Sexual Assault and Abuse: Giving Testimony session, where I spoke on the panel, chaired by Jude Kelly, Artistic Director of the South Bank Centre. Overall, WOW was a fantastic weekend, full of inspiring talks and performances, addressing all sorts of issues related to achieving greater gender equality. Many thanks especially to the survivors, witnesses, and supporters who came shared, listened, and spoke out at our discussion group.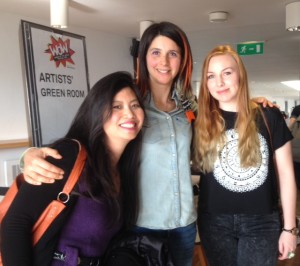 Leading up to WOW, I wrote this opinion piece for The Huffington Post on the Oscars — did you notice the issue of sexual abuse was center-stage at the Academy Awards this year?  That's progress!  As well as this blog post for Polis: Journalism and Society at the LSE, on the importance of celebrity, solidarity, and activism around sexual assault.
For now, I'm off to New England and New York for a short break, and will be back in London in mid-April… whereupon I'll have to start working on my PhD upgrade in earnest. Lots of exciting things happening at the Department of Media and Communications at the LSE – we were recently ranked 3rd best Media Studies Department in the world… Not too shabby, eh?