Well yes, it's happened.  Dark Chapter is out! In stores!  Online!  Do go buy it, as soon as you can, as first-week sales can provide a huge momentum boost for authors.  You can get in the UK and Ireland at most major booksellers like Waterstones, WH Smith, Blackwell's, Foyles, the Hive (to support your local high street bookshop), and yes, Amazon.  In fact, the Kindle version is currently Amazon's No. 1 bestselling title for 'Northern Irish Crime'!

Our official publication day was yesterday, and I've been caught up in a flurry of media coverage and events for the past few weeks. I did a live TV interview with Nuala McGovern on BBC World GMT and here's a few shots from it — you'll be able to watch the interview once I figure out how to get the file up on this website (not the most tech-savvy over here…!)
Other media highlights include this radio interview with Jayne McCormack on BBC Radio Ulster, another radio chat with Sean O'Rourke on RTE Radio One, and these interviews with The Irish News and The Irish Sun.  And I've especially relished the opportunity to write on the issue of rape for a number of outlets, including this 4-page spread for YOU Magazine and the Mail on Sunday, alongside smaller pieces like this one for The Pool and The Metro.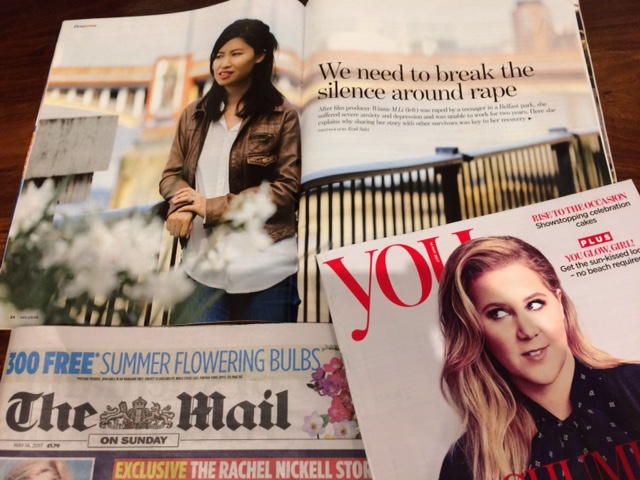 While most of the media interest has been about my real-life journey towards writing the book, it's also been very gratifying to see people engaging with Dark Chapter as a novel in its own right.  Here, book blogger Scott Manley Hadley has written a lengthy (and fantastic) review (also for The Huffington Post), and here's a fascinating podcast I did with Rob Sharp for English PEN about freedom of expression and self-censorship around the issue of sexual assault.  My launch event at Daunt Books Holland Park was really energizing (yes, we sold 100 hardbacks in one night!), and I have a very busy June ahead of me.  In fact, I'm speaking at Byline Festival tonight, the London School of Economics on Wed, June 7th, and well… you can see the book tour schedule below for more details.  Most importantly for me, I'm returning to Belfast on June 15th to present at the Belfast Book Festival — this event in particular will mean a lot to me, given that my rape took place in Belfast.  Hope to see you at one of these events, and I'm always interested in speaking and fostering a more open conversation about sexual assault.