If you haven't read it, my latest article on the Stanford sexual assault has gone somewhat viral, with over 90,000 people (at last count) reading it around the world!  After The Conversation published it, other media outlets like the Australian Broadcasting Corporation, The Independent, TIME, Scroll, and Raw Story ran it, making it available to readers as far flung as Oz and India.  Case in point: social media amplifies (as I argue in my article), and with millions of people worldwide reading the full impact statement of the Stanford survivor, this case has become a game-changer in influencing the way we think and talk about sexual assault.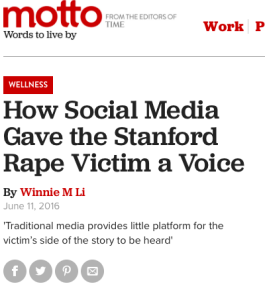 This is all very on topic for my PhD research on social media and narratives by rape survivors, and  I'm thrilled to announce I recently passed my PhD upgrade at the London School of Economics! Which means it'll now just be, oh, three years before you can call me 'doctor'?  (Yep, a long game we're talking here.) This week I've just presented a paper on my work with child sexual abuse survivors at the CMCI PhD Conference '(In)Visible Cultures' at Kings' College London, and I'll be presenting it again at the Media and Communications PhD Symposium at the LSE on June 30th.
On June 23 and 27, I'll chair the Q&A following performances of Foreign Body, a work-in-progress piece of physical theatre, which explores a woman's memory of sexual assault and her interview with her perpetrator.  The Q&A will be with Imogen Butler-Cole of The What Works (the theatre-maker who created and performs Foreign Body) and Marina Cantacuzino and Anne-Marie Cockburn of The Forgiveness Project.  Marina founded the well-known project, and Anne-Marie's own restorative process with the young man who supplied a fatal overdose of MDMA to her 15-year-old daughter is a remarkable journey, You can watch her story here. We'll be discussing trauma, recovery, and restorative justice among other things — and do join us at either of the performances: at the Off Beat Festival in Oxford at 7:45pm on Thursday, June 23 (tickets £8/6) and at the RADA Festival in London at 4pm on Monday, June 27 (tickets £10/5).  Hope to see you there!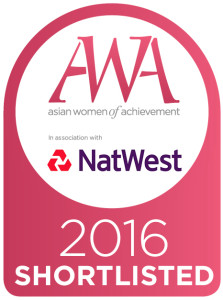 Last month, I had the pleasure of attending the 2016 Asian Women of Achievement Awards Dinner, where I was shortlisted in the Social and Humanitarian category.  Although I didn't win, it was truly inspiring to be among so many fantastic women, who have made such a difference in their work across a range of industries.  Here's me and the delightful Harleen Kaur, winner in the Sports category, who at 17-years-old is an international World Martial Kombat champion. It'll be an honour to be part of a growing network of accomplished Asian women recognised by the Women of the Future Foundation — and I look forward to seeing our collective positive impact on society continue!