So my novel's been out a month, and many many thanks to all of you who came to hear me read, asked questions, bought the book, and sent so many encouraging messages about how it affected you. The feedback I've been getting has been really gratifying, after 3.5 years spent writing the novel and well, 9 years living the experiences that inspired it.  Your support and reception has made it all worth it. I've had male readers telling me the book made them cry and think very differently about what it's like to be a woman — and I've also had rape survivors say they've never before read a book which captures that authentically the aftermath of trauma.  So thank you to all of you.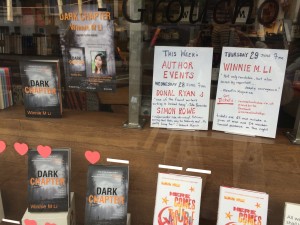 Someone remarked Dark Chapter may be that rare novel to have received glowing reviews from publications as different as The Daily Mail and Wasafiri magazine!  Here's what some had to say:
The Daily Mail: 'Brave, raw and strikingly original, it is a story that will resonate for many years.'
Wasafiri: 'Not only highly readable but also incredibly important… deeply courageous'
Publisher's Weekly: 'Gripping… Li does a fine job exploring how one incident can change the course of a life in this astute psychological study.'
(If you know any other publications which should be reviewing it, please do give them a nudge!)
To be honest, feedback like this kept me going through an intense June, when I had 12 events and a load of media interviews (in addition to London falling apart politically and sociologically).  Highlights in my media coverage include this piece I wrote for The Times
and this interview with Matt Barbet on Channel 5 news
There was also a fair amount of media coverage around the Belfast Book Festival, where I returned to launch Dark Chapter in the city which is the backdrop of the book's action (as well as the city of my rape).  I spoke on The Nolan Show, the popular radio chat show that features on pages 185-187 of my novel.  I was also on the front page of The Andersonstown News, Q Media, Belfast 89 FM, and had this lovely long interview with Novel Ideas, a literature show produced by Northern Visions Television.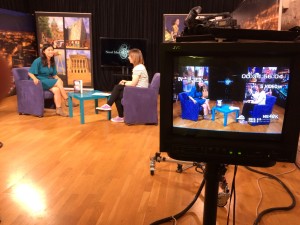 In addition to the book festival event, I also had a very meaningful lunchtime discussion group with counsellors and survivors at Nexus NI, the rape crisis centre in Belfast.  And most significant for me on a personal level: I participated in a panel discussion led by Monica McWilliams, a longtime supporter and legendary women's rights campaigner, alongside representatives from the Police Service of Northern Ireland, Women's Aid, The Rowan Sexual Assault Referral Centre, and Nexus — organisations which are all vital sources of support for survivors.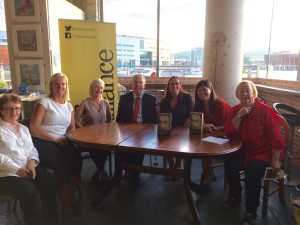 It was especially poignant to sign a copy of my book for the forensic doctor who examined me after my 2008 assault, and whose warmth and kindness is portrayed in the novel as well.
In London, the US Ireland Alliance hosted an excellent reception for the book in the Seamus Heaney Library of The Bloomsbury Hotel, which was attended by both the Irish Ambassador and the Acting US Ambassador to the UK.  Click here for some great photos.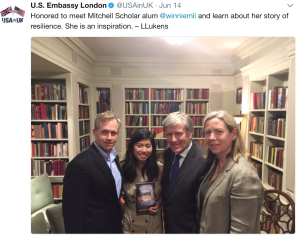 I also had the honour of delivering the keynote speech at a symposium for the Gender and Sexualities Research Forum at City University, as well as readings at Waterstones at LSE, The Library private members club, and the truly fantastic Review bookshop in Peckham. 
While things calm down for me in July, I'll be taking the book on the road a bit more. I'm currently in  Newcastle speaking at the English Shared Futures conference, and I'll be doing signings at Blackwell's across from the Civic Centre at 1:50pm on Thursday, July 6th and WH Smith (36 Northumberland Street) at 1pm on Saturday, July 8th.  And I'm headed to Bristol and Brighton in the next few weeks!