So the festival I decided to launch in April ended up happening July 30 – Aug 2 — and I'd say it was a success!  The Clear Lines Festival had an estimated 500 people involved over the four days, including 60+ speakers and artists who wanted to help us start a new conversation about sexual assault and consent.  People cried at our Theatre Night and laughed at our comedians, including the brilliant Tiff Stevenson, Josie Long and Bridget Christie — and there were heated discussions at many of our panels.  A number of events were filled to capacity, and Channel 4 News even aired this nifty segment on us: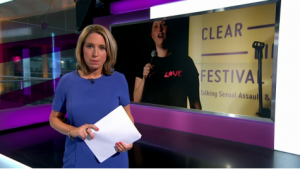 Overall, there was a lot of press generated about the festival.  We were covered by The Telegraph, the Daily Mail, Time Out London, The Huffington Post, among others.  And I had a live television interview on London Live and some live radio interviews on various local BBC stations.  Check out our press here and you can read our wrap-up blog post on Clear Lines here.
A special shout-out to my festival Co-Founder Dr. Nina Burrowes, to our sponsors On Road Media and McAllister Olivarius, a dedicated Planning Committee, a great team of volunteers, and our 138 Crowdfunders… without whom the festival could not have happened!